Home
»
New Jersey Social Security Offices
»
Trenton Social Security Office
Trenton NJ Social Security Office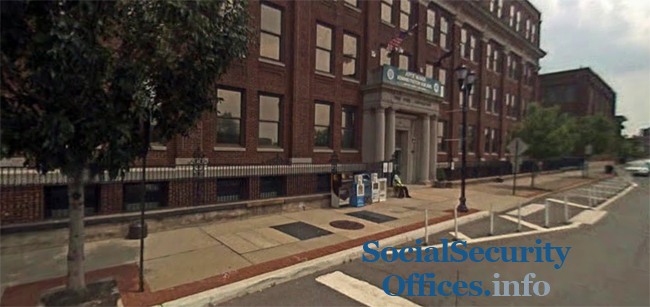 Trenton NJ Social Security Office
635 S Clinton Ave
Trenton, NJ - 08611
609-989-0445

Official Social Security Administration Website: http://www.ssa.gov/

---
About Trenton NJ Social Security Office
Hours:
Monday 9:00 AM - 4:00 PM
Tuesday 9:00 AM - 4:00 PM
Wednesday 9:00 AM - 12:00 PM
Thursday 9:00 AM - 4:00 PM
Friday 9:00 AM - 4:00 PM
Saturday Closed
Sunday Closed

Directions/Location: TAKE RTE 1 SOUTH INTO THE CITY OF TRENTON. BEAR RIGHT ONTO RTE 129 S. FROM RTE 129 S TURN RIGHT ONTO S BROAD ST, RIGHT ONTO HAMILTON ST, RIGHT ONTO S CLINTON AVE AND RIGHT ONTO ELMER ST. PARK IN THE SHOPPING CENTER ON THE LEFT. THE OFFICE IS AT THE END OF ELMER ST. FROM I 295 (NORTH OR SOUTH) TAKE RTE 129 N INTO THE CITY OF TRENTON. TURN RIGHT ONTO HAMILTON AVE AND FOLLOW DIRECTIONS ABOVE.
SSI makes monthly payments to people who have low income and few resources and are:
Age 65 or older;
Blind; or
Disabled.

If you are applying for SSI, you can complete a large part of your application by visiting our website at www.socialsecurity.gov. You also can call us toll-free at 1-800-772-1213 to ask for an appointment with a Social Security representative.

Parents or guardians usually can apply for blind or disabled children under age 18. In some cases, other third parties can apply for children.

You should bring certain items when you apply. Even if you do not have all of the things listed below, apply anyway. The people in the Social Security office can help you get whatever is needed.
Please bring:
- Your Social Security card or a record of your Social Security number;
- Your birth certificate or other proof of your age;
- Information about the home where you live, such as your mortgage or your lease and landlord's name;
- Payroll slips, bank books, insurance policies, burial fund records and other information about your income and the things you own;
- The names, addresses and telephone numbers of doctors, hospitals and clinics that you have been to, if you are applying for SSI because you are disabled or blind;
- Proof of U.S. citizenship or eligible noncitizen status; and
- Your checkbook or other papers that show your bank, credit union or savings and loan account number. If you are approved for SSI, you must receive your
payments electronically. Payments may be made via direct deposit, the Direct Express® card program or an Electronic Transfer Account. For more information, visit www.GoDirect.org.


How to apply online?
Visit www.socialsecurity.gov and select 'Apply online for disabilitybenefits.'
Fill out the Disability Benefit Application
Answer the questions on the Adult Disability Report
Mail or take the documents to this Social Security office.

The online forms are available to you seven days a week during the following hours (Eastern time):
Monday-Friday: 5 a.m. until 1 a.m.
Saturday: 5 a.m. until 11 p.m.
Sunday: 8 a.m. until 10 p.m.
Holidays: 5 a.m. until 11 p.m.

Locate Trenton NJ Social Security Office
---
Help us rate and review Trenton NJ Social Security Office by posting your review below. The more people that review this social security office, the better resource this service will provide.


Top Tips For Visiting This Office
1. Make An Appointment
- Do not just show up at your social security office. Without an appointment, you will more than likely have a long wait.
2. How to make an appointment
- Call 1-800-772-1213 (or a local office number if they have one) between 7 a.m. to 7 p.m., Monday through Friday. Call the phone number as early as possible or after 6pm. When the office is open, a representative will give you a call back. Set up your appointment.
3. Bring Necessary Documentation
- When you are on the phone with the representatvie, make sure you ask them what forms you will need to bring to your appointment. This will prevent you from having to come back again if you forget your documentation. Here are some documents you may need to bring: US birth certificate, US passport, Social Security Card, etc
4. Bring A List Of Questions You Need Answered
- This will make it easier for you to deal with a time constrained social security representative. Make sure all of your questions get answered.
5. Dress Nicely
- Dressing in neat and clean attire is always preferred. You do not have to wear business attire, but dressing semi professionally can help you dealing while dealing with social security office personnel.
Closest Area Offices
---